Looking for some great and
simple DIY busy book printables
? I love creating these. I've just made a super cute
koala themed busy book printable
to teach shapes. Do you know how easy it is to create a busy book printable?
So easy!
I will create quite a few posts to show you how you can setup your own busy book printable in no time.
DIY Busy Book Printables
Have you ever wanted to make your own busy book for your child or for kids in your class who perhaps need more one-on-one support? They are so easy to make.
First, you will choose printables and skills you want to work on with your child, then you simple head to the nearest officemax / offceworks (in Australia) and get those pages laminated.
After laminating the pages (which you could also do at home with a great laminator) I bought an A3 laminator and it has been the most used tech product in my home ha! Who would've thought. My slow cooker comes close second though lol.
Koala Themed Shape Match Busy Book Printable
I created this page - and a full spring themed busy book to help my nieces learn basic skills when they turned 2. I also teach preschool and kindergarten. I knew these books will come in handy at any time really.
Materials you will need to set this up:
velcro
laminator
Koala shape printable pages (below)
ring binder (any colour)
scissors
plastic sleeve (to store pieces and dry erase marker)
How to prepare your pages:
Laminate both pages - don't skip this part. It's essential that you have everything ready before you start.
Cut up the koala pieces and add velcro to the back of them. make sure you add the matching velcros to the shapes on the mat (where the kids will match).
After you do this, use a hole puncher to punch two holes into the play mat so you can insert it into the folder. So easy!
Store the pieces into the plastic sleeve insert along with a dry erase marker (for other play mats you will add).
The best part about these busy books is that you can take them anywhere and your child can work on them at home, at the doctor's office, in a supermarker. Anywhere!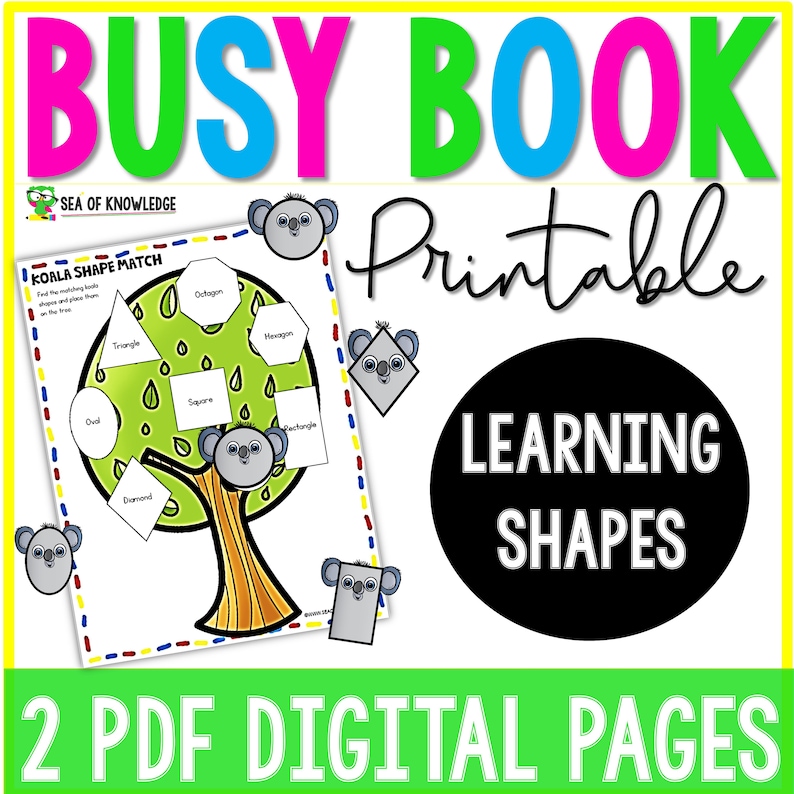 Remember, you can always add pages to your binder, so even if you don't have this printable. You can find many printables online if you wish to add those to the binder.
Find themes and ideas for printables right here at
Sea of Knowledge
(lots of freebies to try).